16-11-2022 18:30
Luogo: 16th Nov Viale Pasubio 5, Milan| 17th-18th Nov, Via della Conciliazione, 10, Rome
Live and digital event
---
About
---
Since the first edition of the International Forum on Digital and Democracy, in December 2020, the stretching of pandemic control measures constrained furthermore individual freedoms. In some cases, it provided legitimacy to authoritarian shift in frail democratic governance.
According to Democracy Index in 2021 global democracy continued its decline and experienced its biggest annual drop since 2010 after the global financial crisis. Whereas even the United States, the stronghold of democracy, in occasion of the Capitol attack, showed to be unshielded to the outburst of illiberal forces.
For fragile democracies difficult times lie ahead. However, if the spirit of democracy and its needs remains strong among people, recovery hopes are also to be placed in the righteous use of digital technologies.
The expected outcome of the Forum is to gain a greater understanding and shared view on how digital technologies can positively affect electoral process and pluralism. As a follow-up of the debate of the first edition, the Forum will explore and develop the interplay between digital technology and data, political participation, and governance. Altogether with two additional focus: the functioning of eGovernment and disinformation.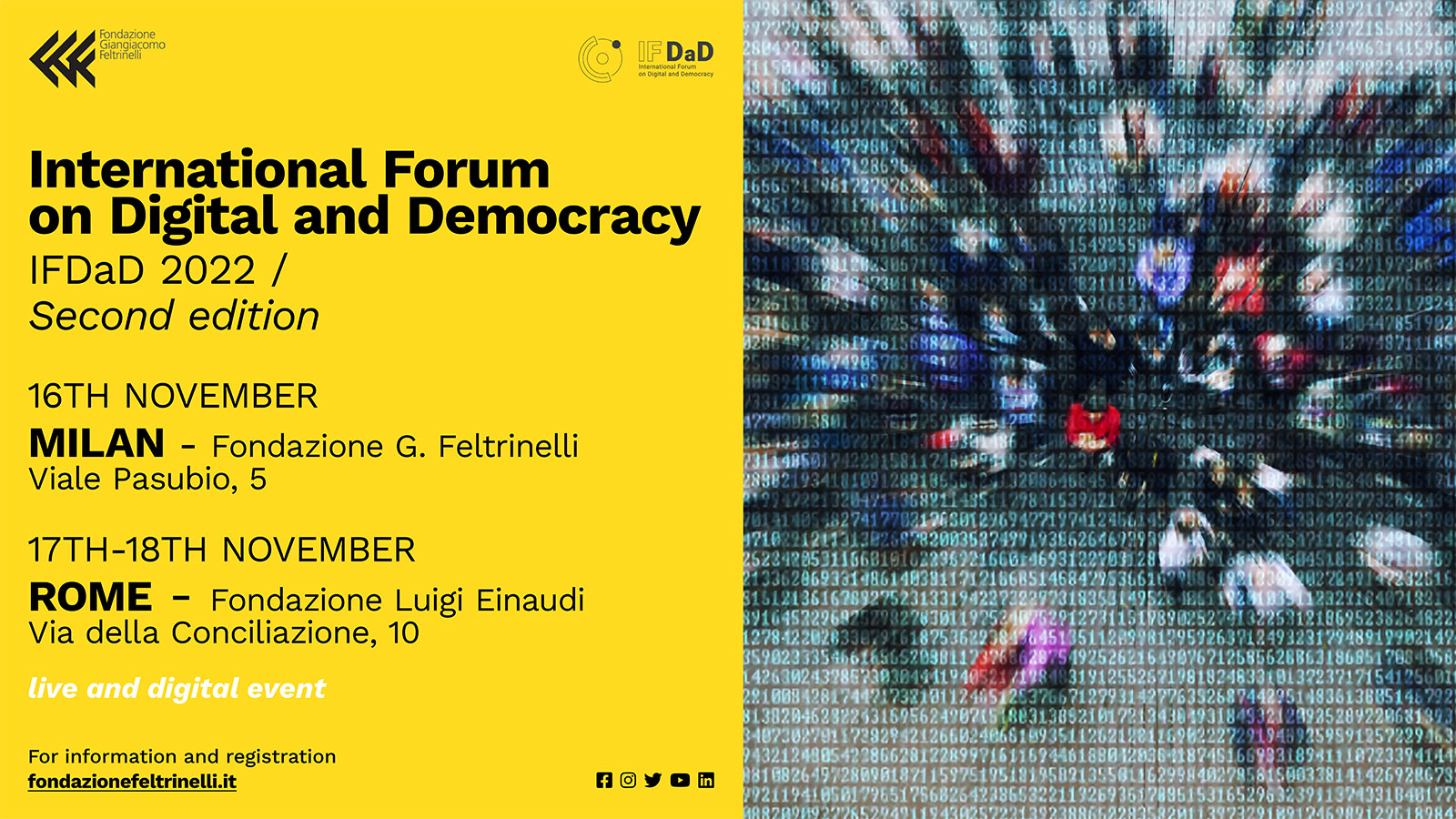 ---
Program
---
16th November, 
6.30 PM
Viale Pasubio 5, Milan
Democracy in the Digital Age
---
In particular, on November 16th, we will ask whether and under what conditions the digital revolution can improve the quality of our democracy by fostering processes of aggregation and participation. Can the impact of digital on democracy contribute to reducing the distance between citizens and institutions that is perceived to be increasing today, as evidenced by the very high abstention rates, including in the last local elections? According to what tools and processes can the digital strengthen experiments in democratic innovation by also involving social segments that are not usually involved in such initiatives?
---
Speakers
---
Pari Esfandiari, co-founder and President Global TechnoPolitcs Forum
Giovanni Allegretti, senior researcher at Centro Estudos Sociais University of Coimbra
Stefano Quintarelli, Chairman Advisory group on advanced technologies – United Nations Centre for Trade Facilitation and Electronic Business
Emiliana De Blasio, Advisor del Rettore su Diversità e inclusione, Università Luiss Guido Carli, e Vice direttrice del Centre on Conflict and Participation Studies
Introduction
Massimiliano Tarantino, Direttore di Fondazione Giangiacomo Feltrinelli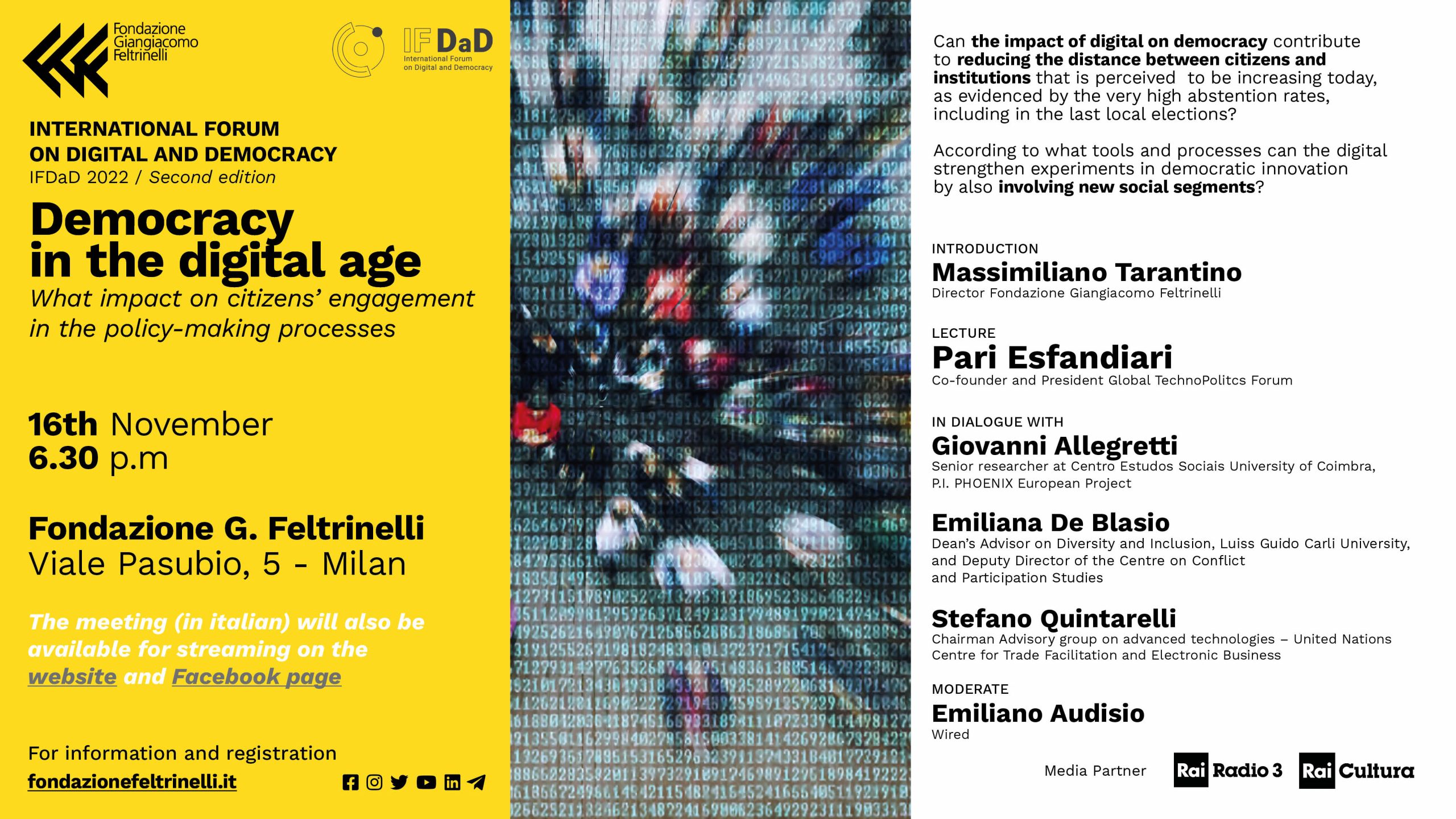 Scarica e condividi
---
17th-18th November
Via della Conciliazione, 10, Rome
Live and digital event
Discover the full program on IFDaD Forum
---
Program
17 novembre
---
OPENIGN SESSION
14.00 – Welcome Address
Andrea Cangini – Member of the Italian Senate, Segretario Generale at Fondazione Luigi Einaudi
Romano Prodi – Former President of the European Commission, Former Italian Prime Minister, co-founder of the International Forum on Digital and Democracy
Moderator: Patrizia Feletig – Chairwoman of Associazione Copernicani
14:20 – Opening Address
Keynote address by Věra Jourová – Vice President of the European Commission for Values and Transparency
Followed by a conversation with Luca De Biase – Media Research Director at Re-Imagine Europa
14:35 Recommendation on the Ethics of Artificial Intelligence
In conversation with Gabriela Ramos – Assistant Director-General for the Social and Human Sciences of UNESCO Moderator: Erika Staël von Holstein – Chief Executive at Re-Imagine Europa
---
DISINFORMATION SESSION
14:50 – Presentation of papers
Technology-fuelled disinformation has a toxic societal impact on democratic political culture, providing severe polarisation which damages all institutions essential to democracy
Petros Panagiotopoulos. Aristotle University of Thessaloniki, Greece: Public Space & Social Media: New possibilities of politicisation, "echo chambers" or fora of neo-populism?
Max Lesser, Hallie J. Stern and Sara-Jayne Terp. DISARM Foundation, USA: Countering Russian Misinformation, Disinformation, Malinformation and Influence Campaigns in Italy Surrounding the Russian Invasion of Ukraine.
15:00 – ROUNDTABLE
Polarization and technology-fueled disinformation: steps to disengage and tackle misleading web content
Keynote: Syed Munir Khasru – Chairman, The Institute for Policy, Advocacy, and Governance (IPAG)
Nadeem Anjum – Head of Notifications and AI, Facebook (Meta)
Enea Franza – Vice-President and Director, Department of Political Science, International University for Peace in Rome
Arif Perdana – Associate Professor, Data Science, Monash University, Indonesia
Moderator: Rubayat-E-Shams Anik – Senior Research Associate, Institute for Policy, Advocacy, and Governance (IPAG)
Q&A SESSION
---
POLICY SESSION
16:00 – Presentation of the United Nations E-Government Survey 2022
Digital technologies and AI are increasingly shaping the agenda of international diplomacy. Still, the effort to build global governance for digital is far from producing any result. What does this mean today, and which changes should we expect in multilateral and bilateral relations in the next few years?
In conversation with Vincenzo Aquaro – Chief of Digital Government at the United Nations Moderator: Gianluca Misuraca – Founder and Vice President for Technology Diplomacy, Inspiring Futures
16:15 CLOSING SESSION
Monica Maggioni – Journalist and director of the Italian news program TG1, former President of RAI and former Vice President of the European Broadcasting Union (EBU), member of the Board of Re-Imagine Europa (TBC
17.11 – Opening session delle 14.00 / Disinformation session delle 14.50 (di fila)
18.11 – E governement session delle 14.00 fino alle 17.40
---
18 novembre
---
DEMOCRACY, DATA & AI
The Future of SoBigData
9:30 – WELCOME AND INTRODUCTION
Roberto Trasarti – SoBigData++ Project Coordinator
10:15 – DATA AND THE FUTURE OF DEMOCRACY
Kalina Bontcheva – University of Sheffield Fosca Giannotti – Scuola Normale Superiore Jeroen van den Hoven – Technische
Universiteit Delft
11:00 – COFFEE BREAK
11:30 – ROUNDTABLE
Can Data Governance and Trustworthy Artificial Intelligence Help Strengthen our Democracies?
Can civil and human rights be protected by implementing a different design for the current digital ecosystem? Is data transparency a key factor in protecting our democracies?
Fosca Giannotti – Scuola Normale Superiore Patrizia Toia – Member of the European Parliament
Paul Lukowicz – DFKI and University of Kaiserslautern
Jeroen van den Hoven – Technische Universiteit Delft
José Cotta – Head of European Commission's Unit "Digital Science" at DG CONNECT
Moderator: Luca De Biase – Chief Editor at Nova and Media Research Director at Re-Imagine Europa
Q&A SESSION
12:30 CLOSING ADDRESS
Dino Pedreschi – University of Pisa
---
E-GOVERNMENT SESSION
---
14:00 – OPENING ADDRESS
Jeffrey Sachs – Director of the Center for Sustainable Development, Columbia University
14:15 – KEYNOTE – How Disinformation and Misinformation Target Reporters to Delegitimate Media and Destabilise Democracies
Mathew Ingram – Chief Digital Writer, Columbia Journalism Review
14:30 – PRESENTATION OF PAPERS
The effects of the new 'algorithmic power' of States on citizens' rights and the Rule of law
Jérôme Duberry. Graduate Institute of International and development studies, Switzerland: Artificial intelligence, democracy, and the messiness of life
Vanja Skoric (Civic AI Lab University of Amsterdam, Netherlands), Giovanni Sileno and Sennay Ghebreab (University of Amsterdam, Netherlands): Legality, legitimacy, and instrumental possibility in human and computational governance for the public sector
14:40 EXPERT DEBATE: Trustworthiness of Digital Services
Gry Hasselbalch – Cofounder and Research Director, DataEthics.eu
Nena Dokuzov – Head of Project Group for new Economy and Blockchain Economy, Government of Slovenia
Antonio A.Martino – Professor Emeritus, University of Pisa and University of Salvador Buenos Aires.
Vicente Andreu Navarro – Policy Officer, DG CONNECT
Moderator and Chair: Stefano Quintarelli – former President of AGID- Scientific Committee Member, Associazione Copernicani
---
DATA POLICY SESSION
15:40 The Third Way To Digital and AI: Presentation of the Declaration on European Digital Rights and Principles
How can we develop digital designs that help support our democratic processes by shaping the users' experience and behaviour to promote meaningful interaction and nurture constructive debate?
In conversation with Roberto Viola – Director-General for Communications Networks, Content and Technology
Moderator: Luca De Biase – Media Research Director at Re-Imagine Europ
TECHNOLOGY SESSION
15:55 PRESENTATION OF PAPERS
Technology plays a major role in shaping the political landscape
Jörg Rainer Noennig, Balazs Cserpes, Francesca Ceolia, Marie Malchow, Jan Barski and Klara-Maria Brandenburger. HCU Hamburg, Germany: The Migrant Integration Platform MICADO – A Tool for Social Integration and Cohesion
Eduardo Albrecht. Mercy College, USA: The Informatized Body
16:05 EXPERT DEBATE: The Geopolitics of Technology
Keynote: Pari Esfandiari – Co-founder and President of the Global TechnoPolitics Forum
David Bray – Distinguish Fellow and Former Senior Director, GeoTech Center and GeoTech Commission at the Atlantic Council.
Sean Kanhuk – Stanford University's Center for International Security and Cooperation (CISAC)
Geoffrey Goodell – Lecturer in Financial Computing, University College London
Moderator: Gregory F. Treverton – Former Chair of the U.S. National Intelligence Council, Professor of Practice at Dornsife College, University of Southern California
Q&A SESSION
---
In Media Partner con Rai Radio 3 e Rai Cultura